Rice drink powder: benefits and use of the plant-based milk alternative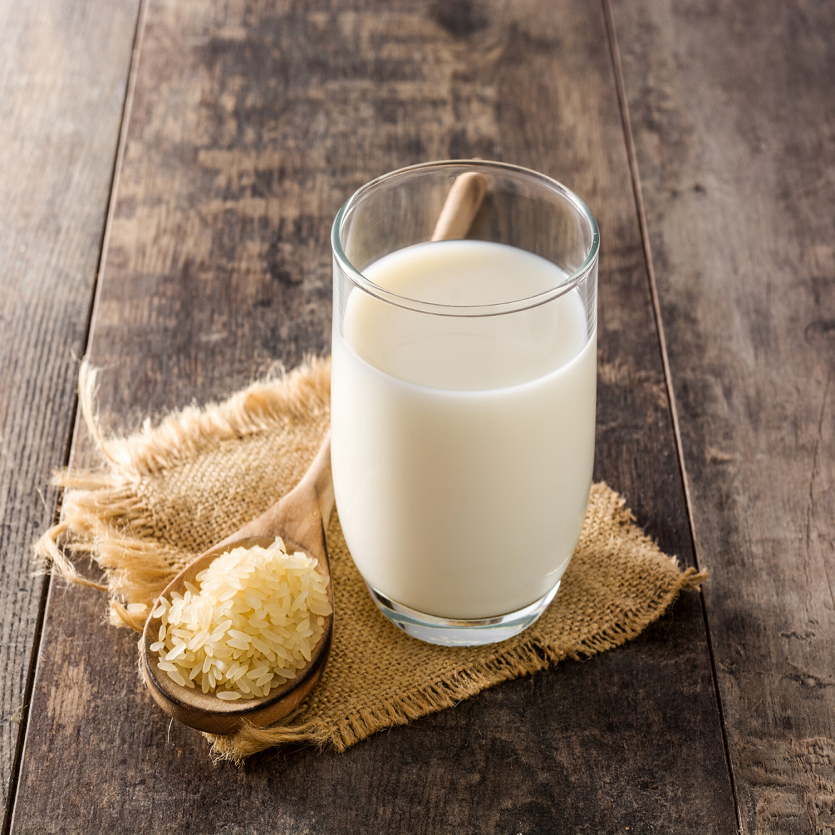 Rice drink is one of many plant-based alternatives to cow's milk. In liquid form, you can now get it in almost every common grocery store.
However, rice drink powder is also increasingly being used. Mixed with water, you can also make the popular drink. Beyond that, however, there are many other beneficial applications. What these are and how you can benefit from them, we reveal to you in the following.
Rice drink liquid or powder: What are the differences?
As the name suggests: Both products are made from rice. In addition, they share the commonality of serving as an alternative to dairy products. However, some differences can be found in the production and application:
Rice drink is created through fermentation processes and the addition of emulsifiers (additives for binding). During production, water, salt and vegetable oil are added to the grain. In this way, a liquid is created that is slightly thinner than cow's milk. Rice drink is often used in coffee or baking. But it is also a good alternative for muesli and corn flakes.
By the way: You probably also know the drink made from rice under the name "rice milk". However, this is not quite correct: In Germany it is even legally stipulated that only animal products (exception: coconut milk) may be declared as milk.
In contrast, rice drink powder is produced by hydrolysis and spray-drying processes. The end result is a powdery consistency. This is easily soluble and therefore easy to process. Basically, there are wide application possibilities – one of them is mixing with water. In this way, you also get rice drink, but you can adjust the composition to your individual needs.
Basically, you achieve a neutral to mildly sweet taste with the rice product.
How to use rice drink powder
The fact that you can vary the composition and thus also the sweetness yourself is an absolute advantage when mixing powder and water. In this way, you can use the drink produced just as you would with milk: In coffee, cereal or baking.
But you can also add the powder to your dishes undiluted. For example, rice drink powder is considered a popular vegan alternative in coffee whitener. In addition, you can give a mild sweetness to corresponding dishes.
That is why the powder is so interesting for food manufacturers: In vegan versions of ice cream, desserts and chocolate, it is increasingly used as a milk powder substitute.
These are the advantages of rice drink powder
Some of the advantages you may have already seen in the previous text. At this point, we give you once again an overview of the most important points:
As already mentioned, one of the advantages is that you can vary the intensity of the taste yourself. This applies on the one hand to the mixing to the rice drink, on the other hand powder can be dosed basically very well.
Furthermore, with rice drink powder you have access to a vegan milk substitute. The use is also very good for people with lactose intolerance – the powder is free of lactose.
In addition, rice drink powder is well tolerated and easily digestible. Although you consume less protein than with classic cow's milk, but more carbohydrates. This makes the product a quick energy supplier.
If (plant-based) protein intake is important to you, you can also use oat protein or pea protein.
In addition to the taste and health benefits, environmental awareness should also be considered. If you decide to buy the powder, for example, you will save packaging waste compared to the liquid variants. Because: 5 liters of liquid rice drink you get in five separate packages. You can mix the same amount of drink from one ration (500 g) of powder, but only resort to a single container. Moreover, this container is often recyclable.
What to look for when buying rice products
Time and again, products made from rice have to contend with a bad reputation. The culprit is arsenic, which can find its way into plant-based foods via environmental influences. In fact, in some rice-growing areas, the groundwater used is contaminated with the semi-metal. This becomes a problem when large quantities are consumed, especially by children. They absorb it much more quickly in relation to their body weight.
Is there anything wrong with using it for the time being? Not if you know what to look for when buying rice and products like rice drink powder:
At naVitalo, for example, we use only microbiologically controlled rice. This is grown without genetic engineering and is therefore of the best organic quality. You can therefore enjoy the consumption of our rice drink powder, rice syrup or other rice products with peace of mind.
As with all foods, when consuming rice drink powder, it is important to use high-quality products and enjoy them in moderation. Then you will benefit from an adequate plant-based milk substitute that also tastes great.
Are you a large-scale manufacturer and have questions about rice drink powder and its quality? Then contact us. We are specialists in plant-based food ingredients and always make sure to use only high-quality and controlled ingredients.
https://www.navitalo.com/wp-content/uploads/2022/01/rice-drink-powder-benefits.png
835
835
C.Scholten
/wp-content/uploads/2021/06/naVitalo-logo-r.png
C.Scholten
2022-01-17 09:37:36
2022-01-26 13:22:22
Rice drink powder: benefits and use of the plant-based milk alternative